Crazy Critter Needle Felting F103
9 Seats Available
Crazy Critter Needle Felting
Sessions:
3
Dates:
6/4/2022 to 6/18/2022
Location: Instructor:
Meeting Times
Saturday 10:00 AM - 1:00 PM
---
Description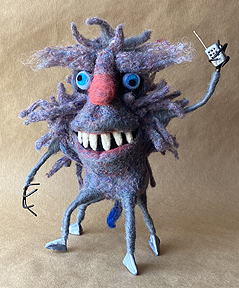 In this 3-morning class, participants will design and create whimsical and imaginative, dry-felted 3-D creatures. They will learn the basics of needle felting, how to obtain and handle the materials and tools safely and effectively, and develop their own uniquely creative designs based on the actual anatomy of humans and animals. In addition, participants will learn the advanced technique of constructing an armature base, and build off of it with core and colored wool. After this course, you will have enough skills to tackle almost any 3-D needle felting project! No previous experience is required, however, some drawing experience would be helpful. Creative license is encouraged in terms of forms, colors, textures and more!
3 Saturdays: June 4, 11, 18.
Please note the weaving studio where this workshop will be held is only accessible by stairs.
Additional Notes
SUMMER 2022 COVID POLICY beginning June 6, 2022
VACCINATION POLICY
Proof of full Covid-19 vaccination and at least one booster as eligible will be REQUIRED for class registration for all sessions going forward.
MASKING POLICY
Starting the beginning of Summer Classes (June 6) the Wesleyan Potters policy has changed. Mask wearing will be optional.
We have to be flexible and will advise if mask requirements go from optional to required during a class session. If Middlesex County COVID positivity rates increase into the Red Category, the loosened rules on masking may be modified for the health and safety of our community.
Note that everyone has the option to continue to wear his or her mask during the Summer Semester.
If you feel the need to continue to wear a mask for your own protections, or to protect someone close to you, you should do so.
Bench times - students will have an additional 2 hours after class time to work on their projects. Morning Classes will have bench 12:00 pm - 2:00 pm. Evening classes will have bench time 5:00 pm - 7:00 pm
An email providing more information regarding our cleaning procedures will be provided before the start of class.
VACCINATION QUESTION: Are you able to provide proof of full COVID19 vaccination with booster?
Please bring proof of vaccination to the office soon after registration and before your class begins. It can also be sent electronically to Wespots2021@att.net. In the subject heading, write your First name, Last name and your class.
Fees
Tuition $190.00
Materials Fee $15.00
Total: $205.00