Sashiko Visible Mending F102
-2 Seats Available
Sashiko Visible Mending
Sessions:
1
Dates:
10/1/2022
Discounts & Other Fees:
10% off Sashiko Basics + Visible Mending - Summer 2022

Location: Instructor:
Meeting Times
Saturday 2:00 PM - 5:00 PM
---
Description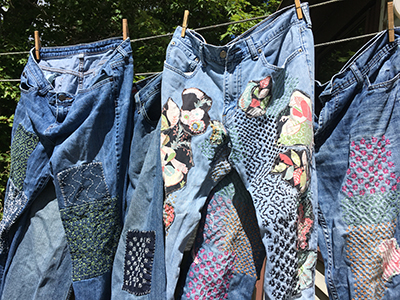 Visible Mending celebrates resourcefulness and sustainability. The workshop will highlight the act of mending and textile repair with Sashiko Japanese Embroidery. With humble beginnings in rural Japan, Sashiko's running stitch insulated work garments for warmth and longevity. Moving into contemporary times around the globe, the bold, geometric beauty of Sashiko continues to both strengthen and decorate fabric. Students will learn how to patch and repair a rip or hole reinforce a worn area and prepare their distressed textile in order to draw a Sashiko grid and pattern of their choice. Most importantly, participants will employ the "small stabs" Sashiko stitching technique to repair or embellish their project!
10% Discount on tuition when you sign up for F101 & F102 in the same order!
Please make sure to add the $15 Materials Fee to your order.
If you are registering for both workshops you will only need ONE materials kit.
Additional Notes
VACCINATION POLICY
Proof of full Covid-19 vaccination and at least one booster as eligible will be REQUIRED for class registration for all sessions going forward.
MASKING POLICY
The Wesleyan Potters policy has changed. Mask wearing will be optional.
We have to be flexible and will advise if mask requirements go from optional to required during a class session. If Middlesex County COVID positivity rates increase into the Red Category, the loosened rules on masking may be modified for the health and safety of our community.
Note that everyone has the option to continue to wear his or her mask during the semester. If you feel the need to continue to wear a mask for your own protections, or to protect someone close to you, you should do so.
An email providing more information regarding our cleaning procedures will be provided before the start of class.
VACCINATION QUESTION: Are you able to provide proof of full COVID19 vaccination with booster?
Please bring proof of vaccination to the office soon after registration and before your class begins. It can also be sent electronically to Wespots2021@att.net. In the subject heading, write your First name, Last name and your class.
Note: Class is Full