Double the Fun! Intermediate Basketry Techniques B101
4 Seats Available
Double the Fun! Intermediate Basketry Techniques
Sessions:
2
Dates:
9/24/2022 to 9/25/2022
Location: Instructor:
Meeting Times
Saturday 9:30 AM - 3:00 PM
Sunday 9:30 AM - 3:00 PM
---
Description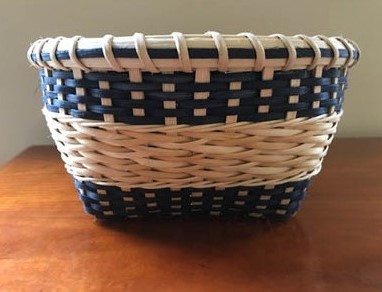 This class is for intermediate and advanced basket weavers who want to learn new techniques including 3-rod wale and braid weaving, twill patterning, and double wall construction. Shaping will be strongly emphasized. More advanced weavers will have the option to weave an alternate twill pattern in the basket's bottom using a pattern provided by the instructor. Your patience will be rewarded with a unique basket which will impress friends and family.
The basket measures 5 1/2 inches high, 6 inches long, and 6 inches wide at the bottom and 11 inches across the top.
Students will need the following supplies:
Small clippers
Flat-ended awl
Spray bottle
Spring clips (approx. 2 in long)
Zip ties
Bucket or basin for water
Sharpened pencil
Lunch and something to drink
Workshop space is on the first floor and wheelchair accessible.
Additional Notes
VACCINATION POLICY
Proof of full Covid-19 vaccination and at least one booster as eligible will be REQUIRED for class registration for all sessions going forward.
MASKING POLICY
The Wesleyan Potters policy has changed. Mask wearing will be optional.
We have to be flexible and will advise if mask requirements go from optional to required during a class session. If Middlesex County COVID positivity rates increase into the Red Category, the loosened rules on masking may be modified for the health and safety of our community.
Note that everyone has the option to continue to wear his or her mask during the semester. If you feel the need to continue to wear a mask for your own protections, or to protect someone close to you, you should do so.
An email providing more information regarding our cleaning procedures will be provided before the start of class.
VACCINATION QUESTION: Are you able to provide proof of full COVID19 vaccination with booster?
Please bring proof of vaccination to the office soon after registration and before your class begins. It can also be sent electronically to Wespots2021@att.net. In the subject heading, write your First name, Last name and your class.
Fees
Tuition $140.00
Materials Fee $15.00
Total: $155.00