Basketry B101 - Introducing Coil Baskets
7 Seats Available
Basketry
Sessions:
3
Dates:
4/7/2023 to 4/21/2023
Location: Instructor:
Meeting Times
Friday 10:00 AM - 1:00 PM
---
Description
3 consecutive Fridays. Workshop will be held in our class space next door in the 356 S. Main Street house which is wheelchair accessible.
Participants will learn to create a coil basket from start to finish. Emphasis will be on yarn or string baskets, but other materials, including raffia may be considered.
Instruction will include designing and shaping a basket of your choice. A variety of basket making materials and styles will be shown. Alternate stitching methods, imbrication, and adding objects will be demonstrated. Advanced students may choose to try innovative shapes, lids, handles, and other techniques or may have time to complete more than one basket.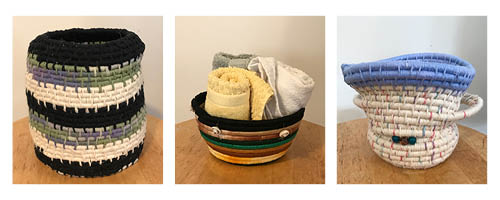 What students need to bring to class:
Beginners: 3 or more skeins of cotton or rug yarn in colors you want for your basket. Scissors, colored pencils to match your yarn colors, one yarn needle for each color of yarn you will be using. Optional: beads, feathers, or other items you would like to attach to your basket.
Advanced: Same as above. Optional: Embroidery floss, raffia, or other suitable materials, scissors, needles for your choice of materials.
Additional Notes
VACCINATION POLICY
Proof of full Covid-19 vaccination and at least one booster as eligible will be REQUIRED for class registration for all sessions going forward.
MASKING POLICY
The Wesleyan Potters policy has changed. Mask wearing will be optional.
We have to be flexible and will advise if mask requirements go from optional to required during a class session. If Middlesex County COVID positivity rates increase into the Red Category, the loosened rules on masking may be modified for the health and safety of our community.
Note that everyone has the option to continue to wear his or her mask during the semester. If you feel the need to continue to wear a mask for your own protections, or to protect someone close to you, you should do so.
An email providing more information regarding our cleaning procedures will be provided before the start of class.
VACCINATION QUESTION: Are you able to provide proof of full COVID19 vaccination with booster?
Please bring proof of vaccination to the office soon after registration and before your class begins. It can also be sent electronically to Wespots2021@att.net. In the subject heading, write your First name, Last name and your class.