Jewelry J101 - Enameling on Metal - Cloisonne
9 Seats Available
Jewelry
Sessions:
2
Dates:
4/22/2023 to 4/23/2023
Location: Instructor:
Meeting Times
Saturday 10:00 AM - 4:00 PM
Sunday 10:00 AM - 4:00 PM
---
Description
Students will delight in the process of creating a finished piece of cloisonné jewelry, with a design of line and shape that translates into the shimmering, gem-like quality of enamel glass on fine silver.
Silver cloisonné wires will be bent and curved to form the line design and secured onto the background sheet of silver. Colored glass in a powder form is packed into the individual spaces, called cloisons and fired in a kiln. Layer on top of layer are successively fired until the piece is ready for finishing.
The result is a beautifully reflective enameled cloisonné, ready for a bezel or prong set form of jewelry.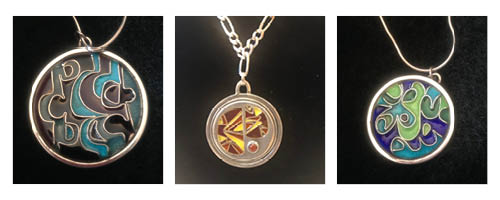 Materials Fee will cover fine silver sheet metal, Cloisonné wire (fine silver), and a kit of colorful enamels both transparent and opaque. Kilns for enameling on metal, crock pots for pickle, and other enameling equipment will be provided by the studio.
Students should bring: a sketch book, pencil, colored pencils, an X-Acto knife, and a plastic bin or toolbox to hold supplies.
Registration will close April 15.
Additional Notes
VACCINATION POLICY
Proof of full Covid-19 vaccination and at least one booster as eligible will be REQUIRED for class registration for all sessions going forward.
MASKING POLICY
The Wesleyan Potters policy has changed. Mask wearing will be optional.
We have to be flexible and will advise if mask requirements go from optional to required during a class session. If Middlesex County COVID positivity rates increase into the Red Category, the loosened rules on masking may be modified for the health and safety of our community.
Note that everyone has the option to continue to wear his or her mask during the semester. If you feel the need to continue to wear a mask for your own protections, or to protect someone close to you, you should do so.
An email providing more information regarding our cleaning procedures will be provided before the start of class.
VACCINATION QUESTION: Are you able to provide proof of full COVID19 vaccination with booster?
Please bring proof of vaccination to the office soon after registration and before your class begins. It can also be sent electronically to Wespots2021@att.net. In the subject heading, write your First name, Last name and your class.
Fees
Tuition

$278.00

Materials Fee

$60.00
Total: $338.00