Sashiko F104 - Sashiko Sampler Table Mat
8 Seats Available
Sashiko
Sessions:
1
Dates:
4/8/2023
Location: Instructor:
Meeting Times
Saturday 2:00 PM - 5:00 PM
---
Description
Workshop will be held in our class space next door in the 356 S. Main Street house which is wheelchair accessible.
Slow down with the meditative stitching of Sashiko Japanese Embroidery to create a sampler of bold, beautiful patterns. With focus on the decorative aspects of the craft, workshop participants will learn how to draw simple grids and geometric patterns, and use Sashiko's "small stabs" to hand stitch three or four designs onto their sustainably sourced linen or denim cloth.
All skill levels are welcome whether you've never tried Sashiko before or you've taken a class or two. Everyone will work at their own pace and choose patterns to suit their comfort level and design aesthetic. Choose from a variety of popular and traditional Sashiko patterns. First timers choose from; seven treasures, blue ocean waves, squares and diamonds, linked steps, tiny plus sign, or star stitch. For those with previous Sashiko experience, choose from flower stitch, woven tortoise, persimmon flower, mountain form, triangle scales, or wild grasses. All tools and materials will be provided.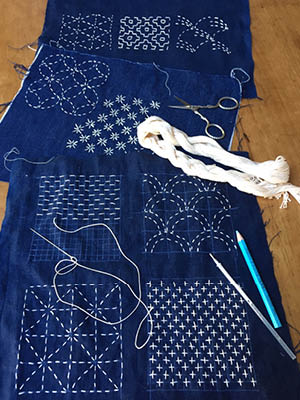 $25 first-timer basic class kit should be purchased if you have never taken any of our Sashiko workshops with Rachel before. The kit includes: one pair of Olympus Sashiko needles, one skein of thread, needle threader, mini-ruler, fabric pen, grid & templates, and a pattern guide. (If you are signing up for more than one of the Sashiko workshops, you will only need one First-Timer Basic Class Kit.)
$15 required fee for all students includes linen or denim and one skein of Sashiko thread, and a resource list.
Communal Materials and Tools: colorful Sashiko threads, rulers, fabric markers and pencils, thimbles, thread conditioner, and scissors.
Returning Sashiko students - bring your needles, threader, grid, circle templates, and ruler.
Please bring your good reading glasses, water bottle, and a snack.
Additional Notes
VACCINATION POLICY
Proof of full Covid-19 vaccination and at least one booster as eligible will be REQUIRED for class registration for all sessions going forward.
MASKING POLICY
The Wesleyan Potters policy has changed. Mask wearing will be optional.
We have to be flexible and will advise if mask requirements go from optional to required during a class session. If Middlesex County COVID positivity rates increase into the Red Category, the loosened rules on masking may be modified for the health and safety of our community.
Note that everyone has the option to continue to wear his or her mask during the semester. If you feel the need to continue to wear a mask for your own protections, or to protect someone close to you, you should do so.
An email providing more information regarding our cleaning procedures will be provided before the start of class.
VACCINATION QUESTION: Are you able to provide proof of full COVID19 vaccination with booster?
Please bring proof of vaccination to the office soon after registration and before your class begins. It can also be sent electronically to Wespots2021@att.net. In the subject heading, write your First name, Last name and your class.
Fees
Tuition

$88.00

Materials Fee

$15.00
Total: $103.00